Sports Cards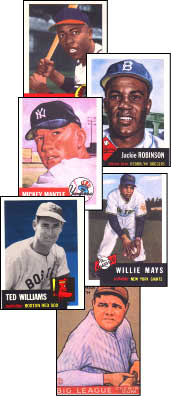 Millions of cards in stock:
Monmouth Stamp & Coin Shop maintains a stock of well over 10 million cards including all the major brands of Baseball, Football, Basketball and Hockey cards from 1900 to date. We carry commons as well as stars and can help you complete your sets. We also carry complete sets from 1950 to date and wax packs, and wax boxes from all the major companies.
Protect your collection:
To assist you in organizing and preserving your collection, we also have a large selection of binders, pages, individual card holders, and ball holders.
Tell us what your looking for:
Please either fax us or email us a list of the items you are looking for and we will be happy to assist you. Be sure to list the sport, brand, year and number of cards you are looking for. All orders and inquiries will be met with prompt service and attention.
Monmouth Stamp & Coin Shop
10 A.M. to 5 P.M. Monday thru Saturday
39 Monmouth Street
Red Bank, New Jersey 07701

Tel: (732) 741-0626
Fax: (732) 741-0479
Welcome | Coins & Stamps | Sports Cards | Postcards & Accessories | Display Cases | Location | Contact Us
Copyright 2002-2007, Advertising Solutions, Inc. (a DE Corp.) All Rights Reserved.
Direct all technical and marketing questions regarding this web site the the webmaster.
Legal Info | Terms of Use